Netmarble is the ninth largest mobile app game publisher in the world and the largest in South Korea.
The company is seeking to sell 17 million shares on the Korean KOSPI stock exchange in early May garnering proceeds of between $1.8 Billion and $2.4 Billion USD (all USD figures converted from Korean Won at .00088 USD / Won). Roughly half will be used for new acquisitions and half will be used to retire debt.
This is a big deal IPO by both Korean and USA standards.
It represents the largest IPO in S. Korea in 7 years. It would rank as the one of the largest tech IPO globally in last 2 years.
In January 2017, Netmarble launched a mobile role-playing game called Lineage ll: Revolution based on licensed IP from NCSoft's legendary PC game Lineage. According to app analytics company App Annie, the game immediately rose to #1 on the S. Korean revenue rank charts.
Netmarble told the Korean press that the game generated $176.6 Million in revenue in the first month. That translates into an annualized revenue run rate [ARR] of $2+ Billion.
Obviously, that run rate is not sustainable. But, even if the game managed to produce $1+ Billion in revenue during 2017, it would place Netmarble in the rarefied company of Niantic, Supercell and MZ (formerly Machine Zone) as the only companies that released a $1+ Billion Dollar game in the last 2 years.
The IPO will be watched closely by the mobile game industry given the poor post-IPO performances of King Digital Entertainment in 2014 and Zynga in 2011.
A case could be made that these IPOs were anomalies and not a fair test of how a mobile game stock is capable of performing. Both Zynga and King Digital had enough numbers in their S-1s to suggest that their best days were behind them at the time of their IPOs.
However, there is absolutely no question that Netmarble's best days are ahead of it. There is no question that its revenues and profits will soar in 2017 if Lineage II manages to sustain an ARR greater than $1+ Billion.
Lineage II is not all that Netmarble has going for it in 2017. In February 2017, the company completed a $700+ Million acquisition of the Vancouver studio of the USA mobile game company Kabam.
If managed properly (questionable as we will argue below), Netmarble could generate a fresh $100 to $300 Million in revenue from two Kabam game. One is Marvel: Contest of Champions which has been a long running Top 15 revenue rank game in the USA. The other is the recently released game Transformers: Forged to Fight based on IP licensed from Hasbro.
No question, 2017 will be a spectacular year for Netmarble. The Korea Times has reported that analysts there expect Netmarble's forward 2017 revenue to be around $ 2.7 Billion, a whopping 107% YoY increase. This is a far cry from Zynga's and King's anemic post-IPO YoY revenue growth rates of 12% and 20%, respectively.
The question is has all of this been priced into Netmarble's IPO price and valuation?
Our analysis will show that expectations for revenue doubling in 2017 has been fully priced into the IPO. Netmarble's IPO is priced for perfection.
Furthermore, there is a pattern of greed on the part of Netmarble's management that has not served it well. It includes:
While Netmarble's short term prospects are tied to the performance of Lineage II in Korea, its long term prospects are tied to success in the West.
The company has announced that it intends to localize and release the Lineage game in China but those prospects are uncertain, even with Tencent (TCEHY) as a significant minority stockholder.
The uncertainty is result of China's recent freeze on licensing new games from Korean companies due to geopolitical tensions between the two countries.
In our opinion, Netmarble's greedy handling of the Kabam games causes us to believe that Netmarble's current and future acquisitions will underperform due to employee and player defections.
We start with a summary of the IPO — the expected price range, and the expected post-IPO valuation based on those prices.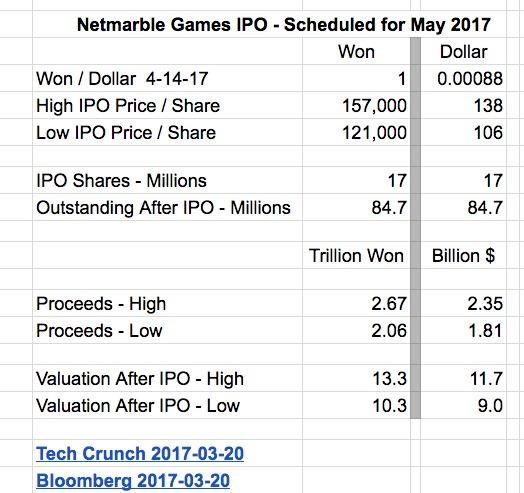 The next spreadsheet is our valuation of Netmarble as a multiple of 2017 forward sales. We have been unable to find any official company forward looking revenue statement. If there is one in the Korean version of their S-1, we have found no reference to it by the Korean financial press.
Lacking official numbers, we use $2.7 Billion for Netmarble 2017 forward sales, a number reported by The Korea Times that analysts there expect.
Any lesser number would only increase our estimated price / forward sales ratio (P/S), which is already high. Any greater number would be incredulous as Newzoo has reported that TOTAL Korean game revenue (mobile + console + PC) was only $4 Billion in 2016.
Moreover, given the $4 Billion Newzoo figure, it seem incredulous that there would be enough demand in Korea to sustain any single mobile game at an $1+ Billion ARR.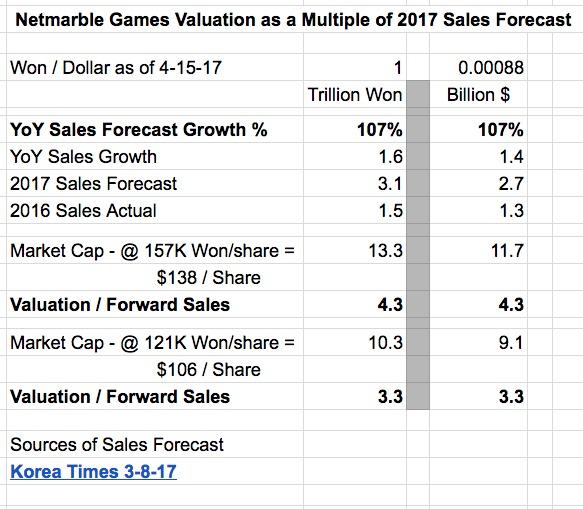 The next spreadsheet is a comparison of the valuation / forward sales (P/S) ratios of Netmarble — 3.3 — with Com2uS — 2.61.
Com2uS is a Korean-based mobile game company listed on the Korean KOSPI exchange. Gamevil, a smaller publicly-held Korean game company, holds controlling interest in Com2uS.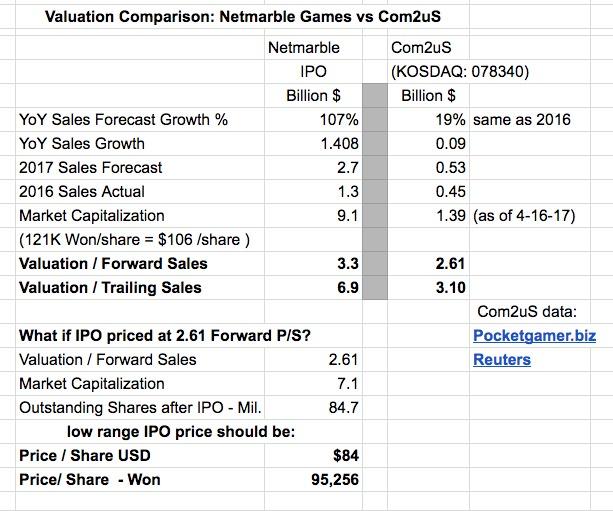 Com2uS is much better known in the USA than Netmarble due to its global hit mobile game Summoners War. The game was released in the USA in June 2014 and has maintained a remarkably consistent Top 20 revenue rank in the USA for the last two years.
Based on this comparison, we believe that Netmarble's IPO is overpriced by 26% at its announced price range of $106 to $138 USD or 121,000 to 157,000 Korean Won.
We believe that it would be a buy only around $84 USD or 95,250 Won.
You might argue that Netmarble's upside potential is higher than Com2uS. That is true. But, we are not talking about financials, but stock prices whose movement is based on perceived and actualized performance that has not already been built into the current prices.
Netmarble is a buy at the announced IPO range if you believe that it will exceed an expected 107% in revenue growth this year. We think not.
Netmarble is a buy if you think it can successfully localize and release the Lineage II game in China in late 2017 or 2018. We say wait a half year before you invest to get a better feel for geopolitics between S. Korea and China.
Finally, Netmarble may be a buy if you believe that the newly released Transformer: Forged to Fight game will become a Top 8-10 hit like its cousin Marvel: Contest of Champions. We think not.
Our four years of reading App Annie charts suggests that there are no more "late bloomers" in the mobile game world. If a newly released game does not crack the top 50 in the first few days, it will never crack the Top 10.
Our reading of the App Annie chart says that the Transformers game is a bust.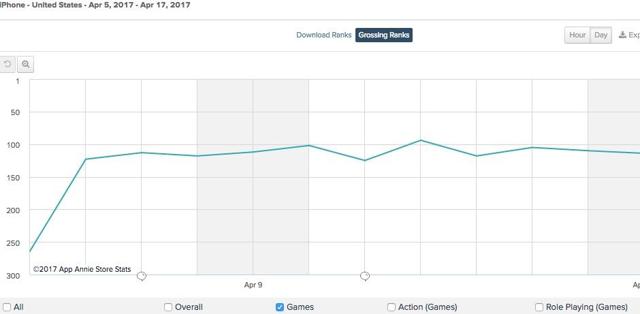 (Source: App Annie)
While the Transformer game began development under Kabam, the final architecture and release schedule came under Netmarble's watch. Both reflect a greediness that we believe has resulted in its quick bust.
The game was rushed into global release on April 5th after a relatively short two month soft-launch shakedown in Singapore and Canada.
Experienced early players of the game report that it is "too complex to play" and there is "kitchen sink" approach to development with a mashup of game genres and a mind-numbing complexity to scorekeeping and purchasing. To us, this suggests that the priorities are early monetization over long term player engagement.
In sum, Netmarble in not a buy at the announced IPO price range. Wait at least six month and evaluate its performance then.