Kabam (Private:KABAM) is a mobile game startup based in San Francisco that had early success at developing games based on movie IP licensed from major studios like Disney's Marvel studio, Warner Bros., and Lionsgate.
Beginning in 2014, Kabam started timing new releases to coincide with the releases of mega-hit movie sequels like Fast and Furious and the Hunger Games. The games had no long-term engagement value and "freemium" revenue plummeted within a few months after release. The result was a disastrous string of five failures and one success.
The one success was Marvel: Contest of Champions, a massively multiplayer online (MMO) game developed by Kabam's Vancouver studio. It is the only game currently producing significant revenue and has a reportedly generated revenue totaling $471 Million since its late 2014 release. In July 2016, we wrote an article for SA saying that " Kabam would be dead today" had it not been for the Marvel game.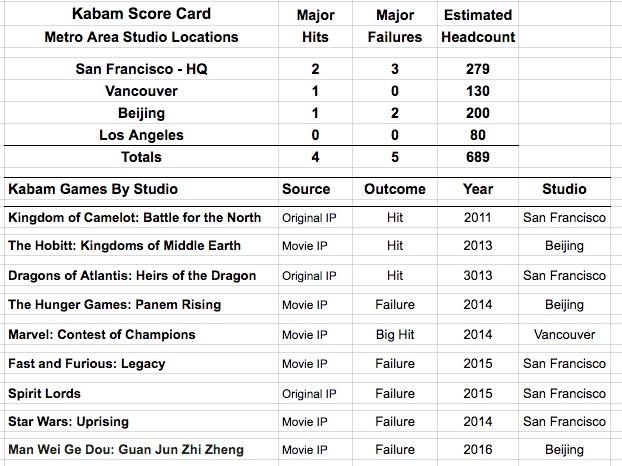 On October 18, 2016, Venturebeat reported that Kabam received an unsolicited offer of $800 Million for its Vancouver studio. A day later the Wall Street Journal reported that Kabam has received multiple bids between $700 Million and $800 Million from Asian and U.S. gaming and media companies.
The bids are an opportunity that Kabam's Board of Directors cannot refuse and represents both a lifeline and death knell.
The $800 Million bid implies a special value for the Vancouver studio of 100+ developers because our estimated (see derivation below) value of the whole company is at $775 Million, which, in turn, is below the previous $1 Billion valuation attributed to it by Alibaba in August 2014 when it invested $120 Million in the company.
We would be comfortable with the argument, presented in more detail below, that this "cherry-picked" bid implies minimal value for the company's founders and C-suite executives based in San Francisco and Beijing. We would be comfortable with the argument that the work-in-progress and underlying game platforms coming out of Kabam's other studios in San Francisco and Beijing, but not Los Angeles, also have minimal value.
In terms of return on investment, we will argue below that the proceeds from $800 Million should be paid out to stockholders rather than reinvested in either the Beijing or San Francisco studios.
In the rest of the paper, we will provide detailed answers to the following questions:
(1) What is current valuation of Kabam as a whole?
(2) Why might it be hard for Kabam to peel off the Vancouver studio?
(3) Who the likely bidder?
(4) What is likely to happen to the rest of the company?
What Is The Current Valuation of Kabam as a Whole?
Compared to other tech companies, valuation and revenue forecasting of mobile game companies is an order of magnitude easier due to the fact that analysts have access to monthly download and revenue rank data provided by such app analytics companies as App Annie. It is equivalent to the 1970s era of pure play movie studios where analysts had access to weekend box office data published by Variety.
We have developed a methodology for valuing and revenue forecasting of pure play mobile game companies based on three pieces of data (1) IOS Apple USA app store game revenue rank published by App Annie; (2) an estimate of a power function relation between annualized global revenue run rate (NYSE:ARR) and IOS Apple USA revenue rank; and (3) "market-derived" valuations of pure play mobile game companies as a multiple their ARR.
We have used this methodology to publish a number of articles on SA:
Kabam: A Mobile Game Unicorn No More?, July 2016
Kabam's IPO Plans are Kaput, January 2015
Machine Zone: IPO or What?, July 2014
Zynga Is A Dog Without A Top 10 Mobile Hit, June 2014
Klab: An Undervalued Japanese Mobile Gaming Stock, June 2014
Mixi: A Rare Undervalued Mobile Gaming Stock, May 2014
We start with a screenshot of the revenue rank trend for Kabam's Marvel game since its release in late 2014.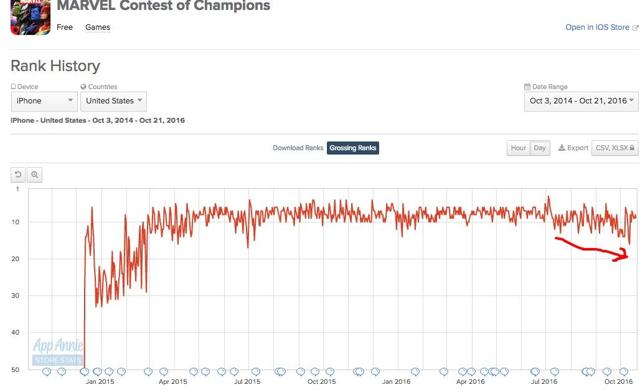 It shows 12 month run between mid-2015 and mid-2016 as a steady #5 to #10 revenue rank game. Based on an average #8 ranking, we estimate that this translates into a $350 Million ARR.
However, the graph reveals some slippage since mid-2016, possibly because of the Pokemon phenomenon. Because of the power function relation between revenue rank and revenue, a single digit slip to an average #9 ranking translates into a $250 Million ARR, which we use for our current valuation below.
This recent slippage is the kind of insight available to financial analysts of the mobile game industry that is unmatched elsewhere in the tech business world. Can you imagine having access to similar trend lines for Uber, Airbnb, Palantir, or Pinterest?
In terms of what multiple of ARR to use for valuing Kabam, we offer the latest "market driven" multiple for a pure play mobile game company. This is the June 2016 Tencent acquisition of Softbank's 84.3% ownership of Supercell for $8.6 Billion. This put the full 100% valuation of Supercell at $10.2 Billion.
Even though Supercell is a private company based in Finland, it is required by law to report annual revenue to the government. In 2015, Supercell reported revenue of $2.326 Billion based largely on its hit games of Clash of Clans, Hay Day and Boom Beach. Now with the addition of #6 Clash Royale, we estimate that Supercell's current ARR at $2.9 Billion, implying a valuation of 3.3 times ARR.
However, Supercell is a very profitable company with multiple hit games and an employee headcount reportedly less than 200. Kabam is currently a one hit game company with a current total ARR of around $310 Million and current employee headcount of around 689. Supercell's ARR/employee is $14.5 Million, which is 32 times that of Kabam's $.45 Million ARR/employee.
Since the mid-2016 slippage in the Marvel game ARR, we believe that Kabam is no longer profitable on a EBITDA basis and now is very likely running cash flow negative. With the IPO window closed, and tellingly, no new VC investments in two years, a $800 Million bid for the Vancouver studio is a lifeline that its Board cannot refuse.
There is no way you can value Kabam at Supercell's 3.3 times ARR. We believe our often used 2.5 times ARR is appropriate here. We estimate Kabam's current valuation at $775 Million, just below the reported top bid of $800 Million for the Vancouver studio.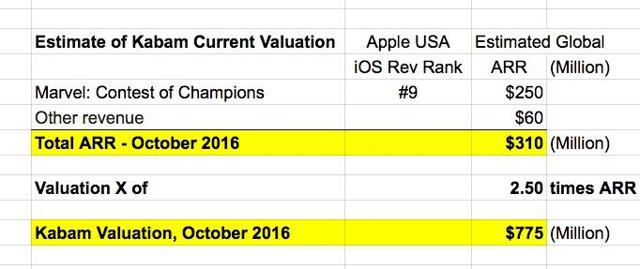 Why might it be hard for Kabam to peel off the Vancouver studio?
The Vancouver studio started out as Exploding Barrel Games, which Kabam acquired in early 2013. The terms were not disclosed. The studio had 35 developers at the time and it was this core group that developed the gameplay engine for the Marvel game.
The CTO of Exploding Barrel Games was Jeff Howell. He is still with Kabam and has gone on to become Kabam's first CTO. According to aKabam press release of his appointment in Nov 2, 2015, " he also will continue to lead the development and implementation of Kabam's proprietary technology engine "Fuse & Sparx." (cute…Fuse & Sparx…then Kabam!!) Kabam also has announced that the Vancouver game engine would be deployed company-wide as the platform of all future MMO game development.
The bid obviously has to include CTO Jeff Howell and the game engine. Kabam has announced a planned 1Q17 release of a MMO game based on Transformer IP licensed from Hasbro. This game is currently in development at its Vancouver studio. The question is who gets the Transformer game? If Kabam retains the rights, how can it continue development at one of its other studios without the help of CTO Howell, the Vancouver team, and a copy of the game engine? These decisions will occupy Kabam's Board as much as the actual bid amount.
Who the likely bidder?
The Wall Street Journal article mentioned that Kabam has multiple bids from Asian and U.S. gaming and media companies. The obvious guesses are the USA console gaming companies Electronic Arts or Activision Blizzard looking for a $1 Billion MMO mobile game to rival those of Supercell and Machine Zone (Private:MZ). Softbank is an unlikely bidder as it has been raising cash by shedding mobile game assets to make up for the losses of its Sprint acquisition. China's Tencent would be another guess, although we think that Alibaba would be uncomfortable selling to its arch rival.
We would like to offer another likely bidder that has "one degree of separation" from the Vancouver studio and could seamlessly step in and run the studio. That company is the Tokyo-based gaming company Nexon (OTC:NEXOF) listed on the Tokyo stock exchange (T:3659). Nexon, founded in Korea in 1994, moved to Japan 12 years ago, went public 5 years ago, and is growing 20-25% a year. It currently has 4 of the Top 10 mobile games on the South Korean app store charts.
Nexon's CEO is Owen Mahoney who has been VP of Corporate Development at Electronic Arts from 2000-2009. Nexon's estimated 2016 revenue is around $1.7 Billion USD. Mahoney has said that Nexon is focused on expanding its mobile presence in the West. While the $800 Million price tag for the Vancouver studio would be a stretch for Nexon, the acquisition would be good fit.
Here is where the "one degree of separation" comes in. Two co-founders of Exploding Barrel Games — its President Scott Blackwood and General Manager Heather Price — plus the Kabam VP that led the Exploding Barrel Games acquisition — Chris Ko –left Kabam in 2015 to start an independent mobile game studio called The Game Studio. The studio is based where? Vancouver. Their mission is what? AAA mobile game developer. And who has recently signed on to become its global publishing partner? Nexon.
It would make perfect sense, and be almost a fairy-tale ending, if Nexon purchased Kabam's Vancouver studio and re-united it with its original leadership led by creative director Scott Blackwood.
What is likely to happen to the rest of the company?
Kabam's website lists eight on its Board of Directors with the majority of five being VC partners of investing firms. The VCs are in control here so founder and C-Suite job security would not be the dominant factor in this decision. Given the dearth of tech IPOs generally in the past two years, there is pressure on the Kabam's Board to accept a bid, regardless of the difficulties it might present for the future success of the remaining company.
As we said earlier, the bid price is the least of Kabam's Board worries. We discussed earlier the thorny issue of how to peel off the Vancouver studio and its game engine without crippling development in the rest of the company going forward.
A more thorny issue is what to do with the $800 Million cash, assuming it is cash and not stock. The basic decision comes down to return on investment with the choices being stock repurchase versus reinvestment in the remaining three studios.
Crunchbase has reported that Kabam has received a total of $244.5 Million from investors — $120M from Alibaba, and the remaining $144.5 Million from venture capitalists. Given the hunger for realized returns by VCs these day, we believe Kabam's Board has to return a minimum of 2X to investors or $489 Million sooner than later.
In our opinion, we don't see much remaining at Kabam that merits an investment, (details below) assuming the Vancouver game engine and the rights to the Transformer game goes with the winning bid. A minimum 2X payout still leaves $311 Million, which is way too much to reinvest in the company. We could see the company keeping only $150 Million, and paying out another $150 Million.
The company has announced only one other game in development — a MMO game based on Avatar IP licensed from James Cameron, the film maker who gave us Avatar, Titanic, Alien, and Terminator. The game is being developed by Kabam's LA studio. It is scheduled to be release in conjunction with the release of Avatar 2 movie. It is not clear what game engine is behind this development.
On the one hand, investing in any creative project based on James Cameron IP seems like a winner. But, Cameron is known for being very fickle. The release date for Avatar 2 has been in a constant state of flux and has been pushed back another year to December 2017.
Also, it is hard for us to conceive Avatar as a MMO battle game like the hit games from Supercell or MZ. Avatar seem better suited as MMO role playing game, which does well in Asia, but not so well in the West.
Also, who's to say that Cameron might change his mind and want a VR game instead of a MMO mobile game? Still, saving the LA studio of 80+ developers and reserving plenty of cash for the Avatar game seems like a good investment.
We have no clue what Kabam's Beijing studio of 200+ is doing these days. The spectacular failure to localize the Marvel game for the Chinese market puts it at the top of our list for closure. This includes exits for two of Kabam's co-founders — long time studio head Michael Li andHolly Liu who moved to Beijing in 2015 to help manage the studio.
The Chinese Marvel game did hit #1 on the Apple iOS China download charts — for one day. And Kabam cajoled Dean Takahashi of Venturebeat into writing an article with this headline: "How Kabam Self-Published Its Marvel Mobile Game in China — and Hit #1"
But, the game never caught on and has been on a steady downtrend with a current revenue rank around #250 on Apple's iOS China app store.(see chart below).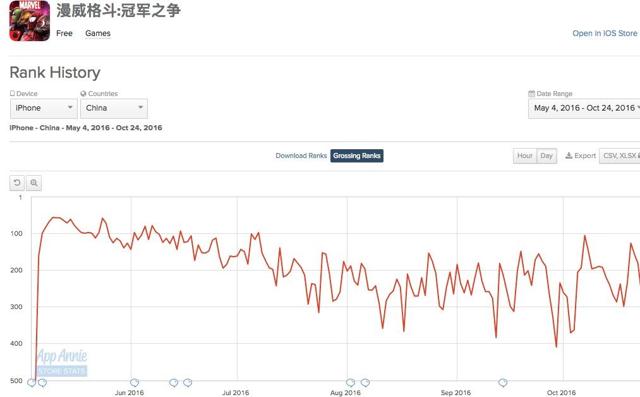 The failure of Kabam to localize the Marvel game has reduced the likelihood that its leading investor Alibaba, or any other potential Chinese investor, to pour more money into the company.
Finally, what should Kabam's Board do with its San Francisco HQ run by CEO and co-founder Kevin Chou and its studio numbering 279+ developers and support personnel?
The studio itself is responsible for three of the recent failed releases. Plus, we have argued that the cause of Kabam's failure to release games with long-term engagement value has been a short-sighted, "talk the talk" culture coming out of its San Francisco HQ.
CEO Chou has admitted as much now saying that the company is focused on "bigger, bolder, fewer" game releases. But, in our opinion, he still doesn't understand what it takes to create long-term player engagement. He thinks it is through mobile games with AAA console graphics including 3D. In our opinion, it is through "metagame" starting with a real-time, crowd-sourced chat translator similar to what MZ (formerly Machine Zone) developed three years ago.
For these reason, we could see the $800 Million bid as the death knell of Kabam's San Francisco operations with a massive layoff numbering 250+ coupled with golden-parachute exits by CEO Kevin Chou and COO Kent Wakeford. Kabam could then downsize its HQ and relocate it in LA with the company headed by President of Studios and Chief Creative officer Mike Verdu.